Create an Instagram Stories ad to boost sales
Once you're creating posts and Stories your audience engages with, start creating ad campaigns to turn likes and comments into sales. Unlike ads that take up only a portion of a user's screen on mobile, Instagram Stories ads are full-screen vertical images and videos that aren't just more immersive than other ads; they're oriented to the way people naturally use their mobile devices. There's no need for users to resize images to see them properly.
There's no other content to distract users; all they see is your ad until they swipe up or move to a new story.
Creating Instagram Stories ads is similar to creating Facebook ads — you have to use the Ads Manager platform. First, choose an objective:
Since your goal is to attract new customers, choose 'Conversions' since these ads are designed to get people to buy something when they get to your store. Make sure you've installed Facebook pixel on your website so that Facebook can help you track conversions.
Step 3 – Name your campaign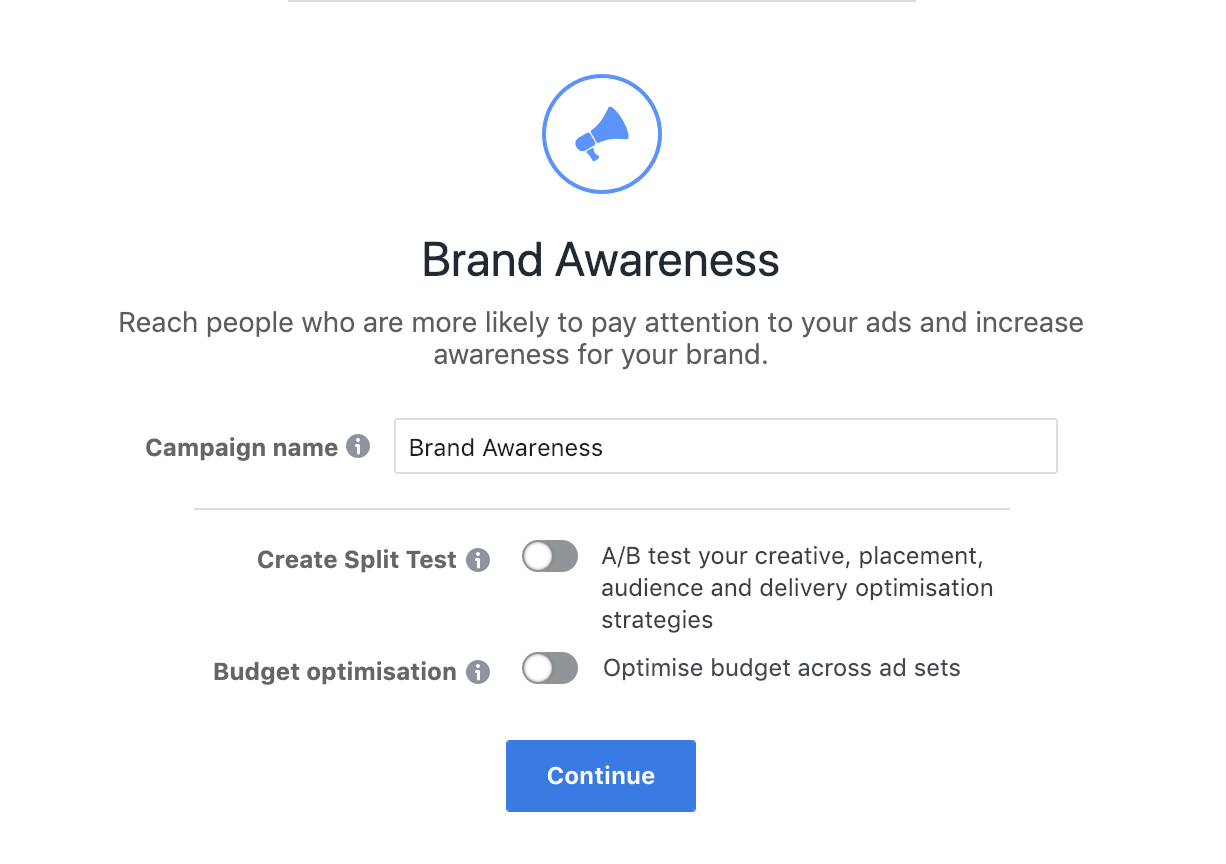 Once you've selected your objective, you then need to name your campaign. You can also choose whether you're going to run an A/B test or whether you want Facebook to automatically optimise your budget across ad sets.

An A/B test is particularly useful if you want to test how well your creatives work. For example, by running the same campaign to the same audience only with two different images for the ad, you can see what stands out best and works for your audience.

Allowing Facebook to automatically optimise your budget makes sure that the spend is spread evenly across your adverts, which will in turn help you get more results if certain ads are performing better than others.
Note: If you haven't set up an Ad Account by this point, you'll be asked to do so here. This includes adding your account country, the currency in which you'll pay for your adverts, your time zone, and your ad account name.
Step 4 – Set your audience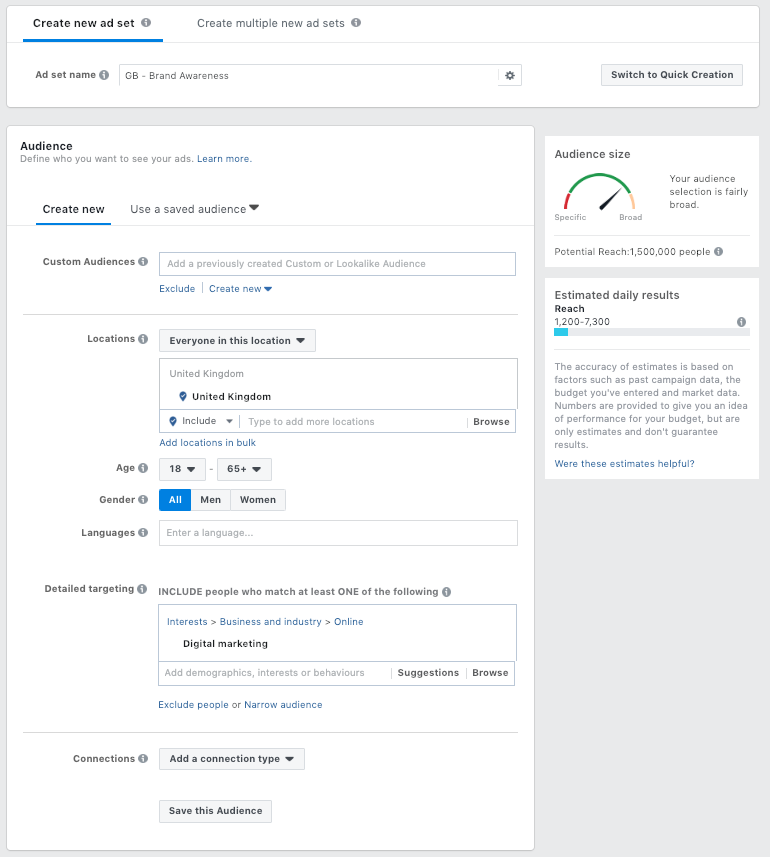 Then, you're on to step three: creating an "Ad Set". This is where you create an audience, budget, and schedule a bidding strategy for your campaign.

This is where you define the types of people you want to have see your ads. You can do this by selecting factors such as location, age, gender, and language, and then look at excluding certain behaviours, interests, or demographics.

In turn, Facebook will generate an ideal "audience size" to show you how broad your audience is, your potential reach, estimated daily results, and more. This is great for getting insight into what to expect from your campaign meaning you can change your ad strategy accordingly.
Tip: How niche your audience is and your allocated budget will define the potential reach for your campaign.
Step 5 – Choose your placements, budgets, and schedule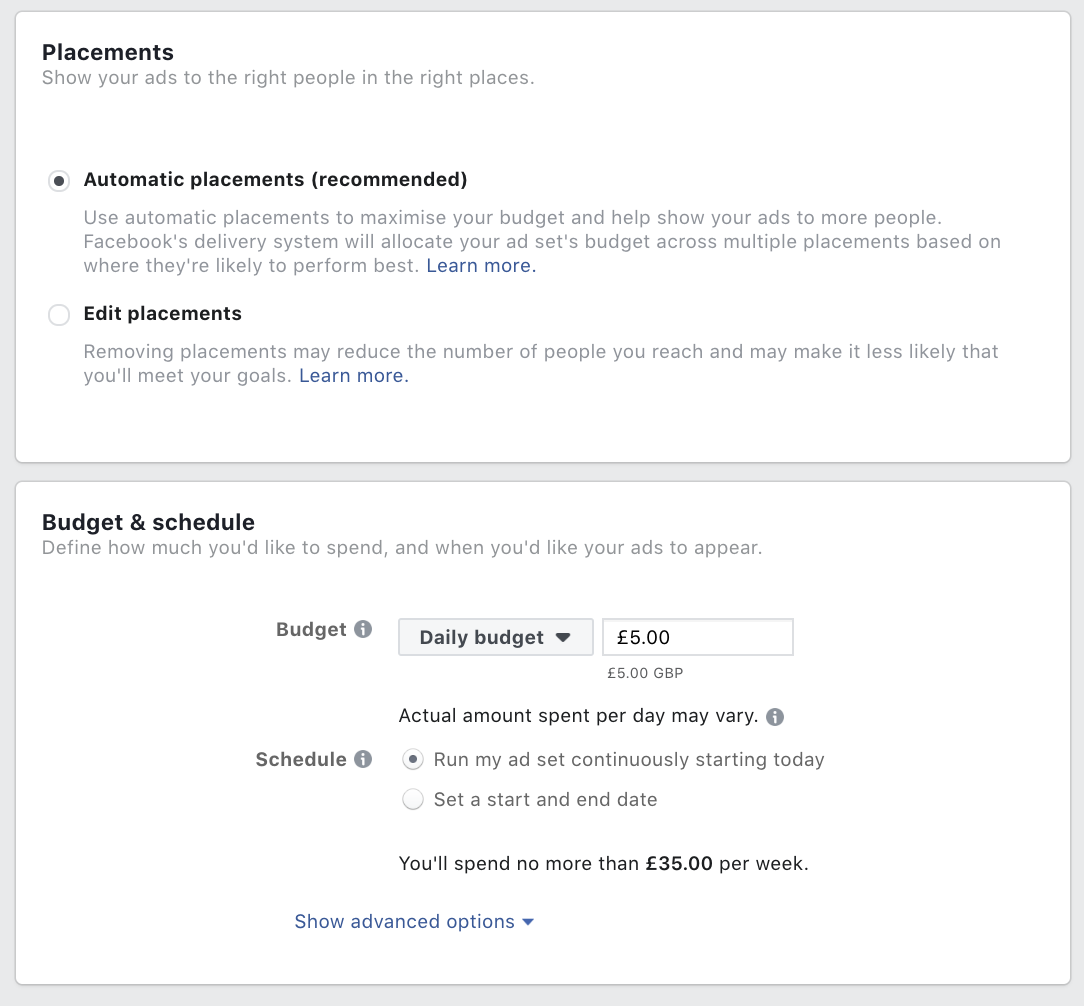 The next step in this section is to set where you would like your adverts to show, so you can ensure your advert pops up in the right place. You'll also need to define your daily budget and ad schedule (when you'd like your ads to appear).

By selecting 'Edit placements' you can choose exactly where on Facebook, Instagram, Messenger, or the Audience Network you want your adverts to appear. If you only want to advertise on Instagram, then you can deselect all of the options apart from 'Instagram Feed' and 'Instagram Stories'.

You can either set your budget to run to a maximum spend each day, or set a time limit for your campaign and choose an overall budget.
Good To Know: You can track your settings using the left-side checklist. By selecting the different steps you can switch between the tabs, making it super easy to correct your mistakes if required.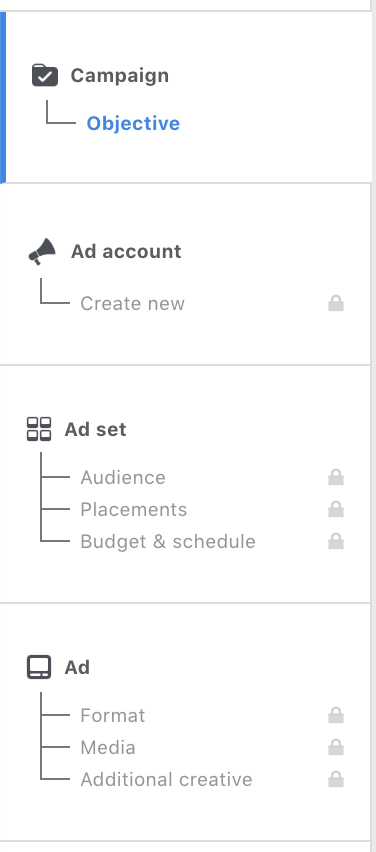 Step 6 – Name your ad set

It might seem like a minor thing but the way you name your ad sets is extremely important. Using a random name will make it harder for you to manage your adverts and see which ones are performing well.
Try to include information like placement, targeting, age range, and creative type within your ad name; this will help make monitoring and managing your ads quick and easy. Here is a good example:
mob_uk_2550_ad1
This could represent a mobile-focused ad, targeting users in the UK aged between 25 and 50.
Step 7 – Choose the type of advert you want to show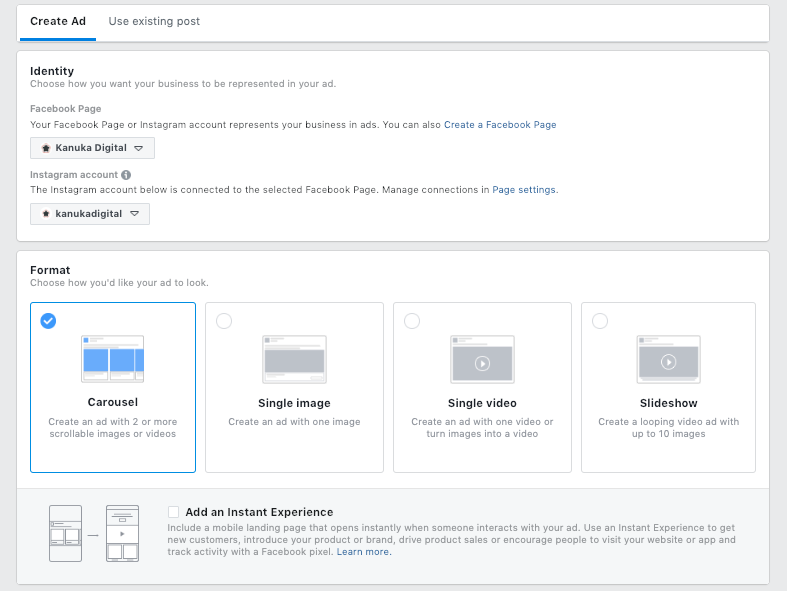 Now onto the fun part: actually creating your advert. Firstly, make sure you select the correct Facebook page and Instagram account that you'd like your adverts to appear from.
Next, select your ad format by choosing from either a carousel, single image, single video, or slideshow, depending on the creative that you want to share.
If you've already got a post on your Facebook page or Instagram account that you want to use as your advert, then select 'Use existing post' and select from the list.
Step 8 – Create your copy and set your URL and call to action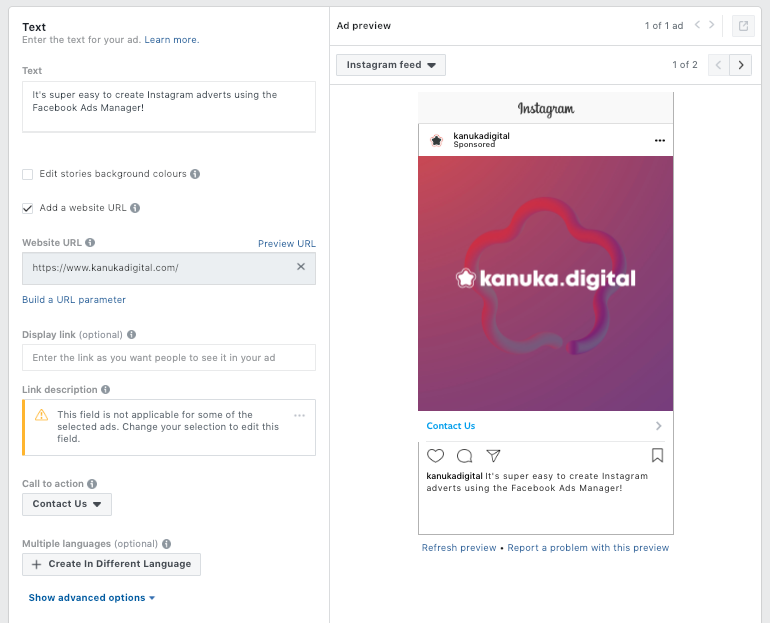 If you're creating a post from scratch, fill in all the fields with engaging copy, eye-catching imagery, and a link to your website, if required.
You should also add a call to action within your advert to encourage people to contact your business, visit your website, or even download a brochure.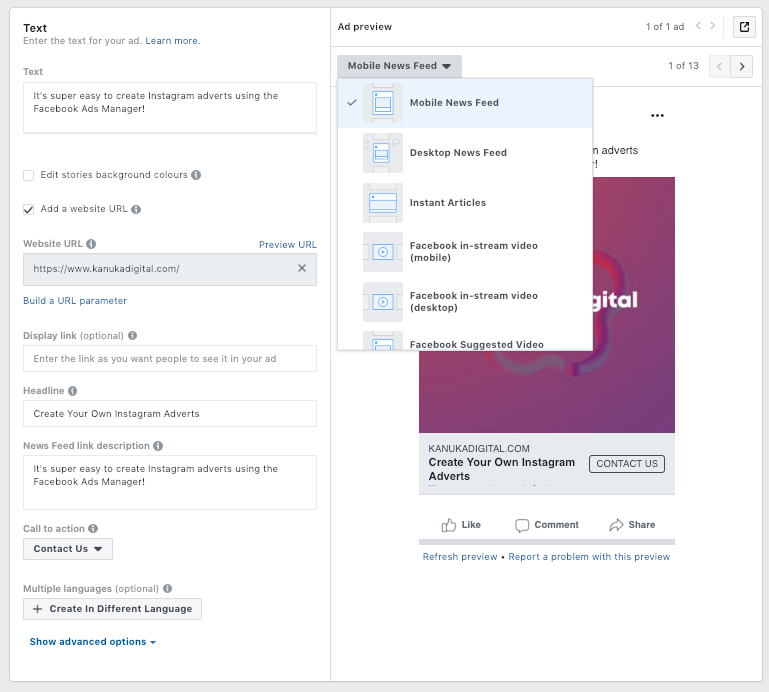 Once you've added this information, you'll be able to preview how your ad will look before it's live. This is where tweaks to your design and text can be made. By sorting through the "preview" filters, you can see how it'll look on mobile, desktop, in-feed, in your Instagram stories, and more.
Use high-quality images and videos that are clear and easy to see. Ads need to have a resolution of 1080 x 1920 pixels and video.
Make your videos entertaining. 60% of Instagram Stories videos are watched with the sound on, so incorporate a voice-over with a music background if possible. Remember, the max length of videos is 15 seconds, so make sure the offer is clear and stands out.
Use a single image or a carousel to showcase your products and offer.
The final step is adding in your call to action (CTA). Since we're talking about the conversion objective as a way to increase sales to your store, use 'Shop Now' or 'Learn More' to get users to swipe up to open product pages on your website.
Use simple text or one of Instagram's Stories badges to bring attention to the CTA:
As with this example, it can be as simple as telling users to swipe up and putting the word 'Shop' right above the CTA.